BOWEN FOR YOUR BODY
One-to-One Treatments
Climb on to the couch and enjoy!
Both traditional Bowen therapy and its more advanced cousin NST* help to relieve your pain, free up stiff aching joints and muscles, and improve flexibility and mobility.
Up to 90% of clients have reported have reported effective, sustained pain relief with Bowen or NST therapy.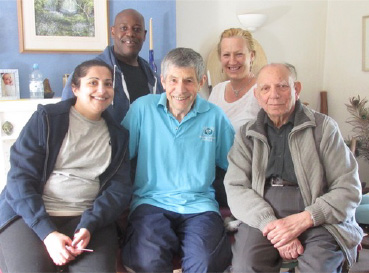 Talks and Training Courses
BOWEN FOR BEGINNERS –To Get you Started!
Background and overview of this exciting hands-on therapy for pain relief; also theory, instruction and practice in essential Bowen treatment. Great 'refresher' information for old hands too! 'Come away with skills to help your friends and family'
BOWEN INTERMEDIATE/ADVANCED – To Develop and Improve Skills
A One-Day Refresher or 2-day Training Course
An ideal 'add-on' for osteopaths, chiropractors and other bodyworkers to develop new skills.
I give a 'Certificate of Attendance' at the end of either course, for the seven hours of daily tuition. This is not a qualification.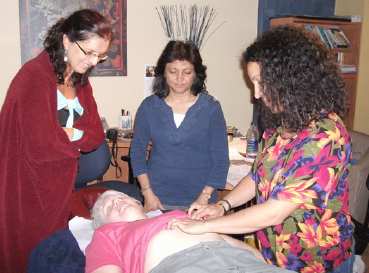 'THE WORLD OF BOWEN'
Invitations to speak at National Associations, Special Interest Groups. W.I.'s and Village halls are always welcome.
Therapy Fees and Supplements
Sliding scale according to income. If unaffordable, make me a reasonable offer. Full prices below.
DOWNLOAD PDF >>
Therapy Fees and Special Offers.
Fantastic price reductions: from 60% to 85%!

*NeuroStructural Integration Technique
STORIES FOR YOUR SOUL
Tim's imagination for stories was first fired at the age of nine by tales of King Arthur read by his Granny, and then as a student in Dublin hearing Eamon Kelly's 'Stories by an Irish Fireside' – in the rich brogue of a true Kerryman!
Since then he has travelled far and wide, learning elements of storytelling from Alexander Mackenzie, David Campbell, Liz Weir, Ron Evans, Clare Mulholland and others… And (for a few minutes) the late, never-to-be-forgotten Duncan Williamson.
He brings a variety of tales to you: Scottish and Irish ones are usually favourites. So are Native American teaching stories… And dragons often creep in. Then there is also the trilogy of his Tooth Episodes, which cracks up younger audiences – and most of the elders too!
He is accustomed to anything from kids' parties or local halls, to 'traditional storytelling' settings mostly within easy reach of Malvern, but also Forest Row (Sussex), the Slovak republic, and a couple of times in Vancouver.
Coming from a line of South Devon sheep farmers in the last century, Tim has both the ability and the background to pull the wool over your eyes, keep you on tenterhooks, or just spin 'ewe' a yarn when the occasion demands!
If you'd like to book him for a session or a gig, please make contact and ask.
MALVERN STORY TELLERS >>
Find out more.
ARTICLES
Hedgehog Equipment - The rise and demise of my cottage industry
DOWNLOAD PDF >>
Read Tim's Latest Article Here.
TALES OF TIM'S TRAVELS
The first of these is:
'ON THE TRAIL OF THE WAITAHA' Tracing New Zealand's Hidden People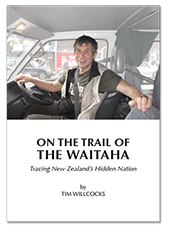 In 2009 Tim went searching New Zealand for distant family relatives, who had emigrated from local Pershore in 1853. This search led on to much more than finding the 'Kiwi cousins'. It took him into the heart of the land and the people, with adventure both mundane and esoteric.
Over several visits, travelling by Kiwi Rail, Naked Bus and camper van, he visited and in this book describes some wonderful places on tourist itineraries as well as a number of remarkable experiences and phenomena not on them… opening a window on the far distant past of 'Aotearoa', and challenging an apparent amnesia about the rich, ancient history of the nation.
What is the origin of the Waitaha nation? Who are the Moriori? Why are the 5,000 year old megaliths not recorded in guidebooks? Is it true that the land was first settled only 1,500 years ago by the Maori? Why does the government continue to cover up evidence of many unexplained burials?
"I never intended to get into a relationship, become so involved in therapy – or esoteric phenomena – or end up tracing some amazingly ancient roots of that land."
On the Trail of the Waitaha is Tim's contribution to dispelling the mists of amnesia which surround the ancient people of Aotearoa, and looking at their history with a new eye.
It is an easy-to-read travel journal, and a very personal story full of exciting information. It contains 60 colour photos and 3 maps. Approach it with an open mind to appreciate fully the depth of a number of the incidents related, which verge on the paranormal.
OPTIONS TO PURCHASE >>
Find out more.